Overlooked: La Alberca, Spain
La Alberca is a little known town in the northwest of Spain, just a hop, skip and a jump from Salamanca and the Portugal border and a four-hour bus ride from Madrid.
I found my way to this quite little town by force. I had signed up for my volunteering English teaching position for a week through the highly recommended
Pueblo Ingles
and was sent to the program's outpost in this wee place.
I've blogged about the program before (though not in depth, which I should do one day. although right after the program was finished I did blog this
MEMO
), but never really about what the village really has to offer. After all, besides the gaggle of English-unundated Spaniards and Anglos that come here to learn every week, other tourists come to La Alberca.
Why?
First off, the village is ancient...over a thousand years old and extremely well-preserved, as you can see in it's fabulously medieval architecture, cobblestone roads and thatched roofs. In fact, all new buildings must be made in the same manner and style as the old ones. It also the first village to be declared a National Historial Monument by Spain and it's easy to see why: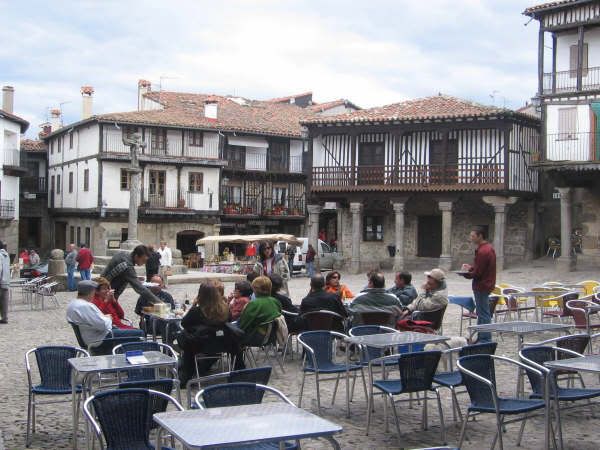 Reported fountain of youth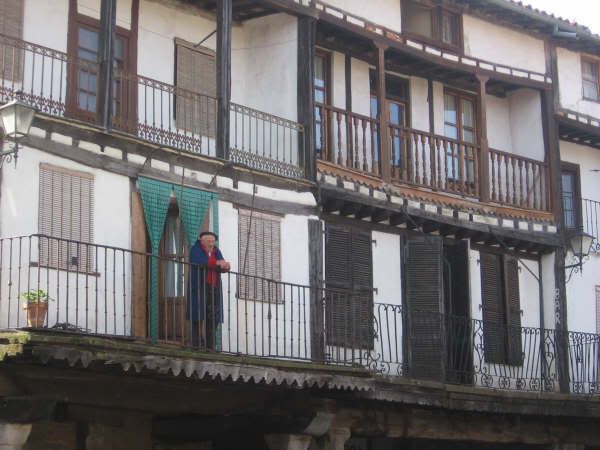 Built in the 1300's, the town church may look unassuming from the outside but inside it tells a different and historically rich story. The
Church of the Asunción
, houses many revered wonders such as a 16th-century pulpit sculpted in granite, a splendid Gothic copper processional cross and a figure of
Cristo del Sudor
.

The scenery is astounding too, as the village combines softly pastoral landscapes with the rugged Sierra de Francia mountains.


Also worth noting is the local cuisine and shops. People flock to this village to sample the tasty, but pricey, serrano hams. These black pigs get fat on acorns...
...before the are sold in any of the numerous Jam shops...
...and make their way to your dinner table.

The local shops are vivid, quaint and all-encompasing, catering to the young tourist:
Old tourist:
And locals:
Details:
*Located an hour and a half from the lively student city of Salmanca, with daily bus services.
*The
hotel
I stayed at is primarily used for the volunteer program, though the chalets can also be rented out. Otherwise, The Paris Hotel (
http://www.hotelparislaalberca.com/
, +34 923 415 131) is closer to town and comfy.
Labels: hidden gems, La Alberca, Overlooked and underappreciated, Spain, travel