Eating out in Portland: Thirst Wine Bar and Bistro
I had the joy of being in Portland last week on a gloriously hot and sunny day - the only dilemma was where on earth to eat? Portland is famous for having oodles of cool and affordable dining experiences and with the one night we had to spend there, we wanted someplace that summed it all up.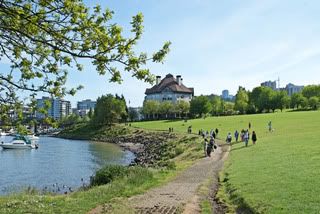 Through the magic of Apple, I used the UrbanSpoon app for the first time and through the luck of the spin, it suggested Thirst Wine Bar and Bistro.




Thirst Wine Bar and Bistro has one fantastic location, right alongside the Willamette River where you can watch the speedboats zoom along the busy waterway. Touted as the only riverside wine bar in Portland, the place specializes in local ingredients in their tantalizing dishes and has a wide variety of Oregon wines and micro-brews. While the indoors of the restaurant are cool and modern, with local artwork adorning the high walls, outside was the place to be that day. We were lucky to snag a table - indeed everyone else had the same idea - and immediately relaxed in its French cafe-style chairs.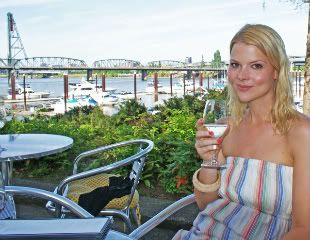 We started off by ordering Blue Heron Ale, a local brew, and the Taste of Oregon Wine Flight. Both were very reasonably priced (remember, no sales tax in Oregon!) and the wine flight was an incredible value at $13. You got a generous 1.5 ounce taste of local Willamette Valley vineyards' pinot gris, tempranillo and pinot noir. Fan-freakin-tastic!




We shared a the cheese trio, with our choice of Maxi Bocage double cream camembert, Beecher's Flagship Cheddar and Tellegio cheeses, which were paired with chewy, crusty bread, with a drizzle of honey and a small dish of spiced nuts.




For a main I had a thick and smokey bacon, black bean and asparugus soup while my man had the thick Thirst Burger. Both were succinct and memorable in their flavours and fully-satisfied our hunger from walking around all day.

To polish things off, we indulged in some fresh and fruity drinks - the Thirsti-to, a mojito with basil, and the Daisy Duke, an utterly refreshing cocktail made from blood oranges. Bliss!


Thirst Wine Bar and Bistro
315 SW Montgomery St.
Portland
503-295-2747

www.thirstwinebar.com
To read about our adventures at the Portland Marketplace(highly recommended), please click on
My Fashion Blog Link