Newport, Oregon

Newport, Oregon is one of the largest towns on the Oregon Coast and a welcome respite from the sleepy hamlets that surround the town in all directions (except West, duh).

Newport is perhaps most famous for the Oregon Coast Aquarium, one of the top ten aquariums in the US. We didn't end up going to the aquarium, mainly because we didn't have the time and also we have a most excellent one at home - The Vancouver Aquarium...I'm sure you've all seen the pictures of our buluga whales with random kids silouhettes in front.

Anyhoo, though many people come for the aquarium, Newport has some other great attractions such as the ever-present Ripley's Believe it or Not, a Wax Museum, Undersea Gardens and several deep-sea fishing charters - crabbing and tuna/salmon/halibut fishing are very popular.




Newport also has a quaint and lively "old town" area, where you can watch fishermen haul in their daily catch, shop for souvenirs or get a bowl of steaming clam chowder. The restaurant "Mo's" is so popular for their clam chowder, they have two restuarants open across from each other and up and the down the coast as well.




Despite that, they were both chockerblock full, so we found a dark, authentic little cafe down the street called The Whales Tale. It was definitely a hole-in-the wall, untouristy, mom and pop kinda joint which I thought made it that much more interesting. Their clam chowder was amazing, as was their halibut po-boy and shrimp louie (on a grilled English muffin). Yum-O!




Newport has a plethora of nice places stay, including your reliable La Quinta, Shilo Inns and Best Westerns. But it also has more unique and personal accommodations, such as The Grand Victorian Bed and Breakfast...


To the gorgeous rooms at the Anchor Pier Lodge....



Or the Literature Themed rooms at the infamous Sylvia Beach Hotel, where rooms in these heritage, beach-front hotel are named after famous authors. I'm partial to the Edgar Allan Poe room, with it's red velvet and satin adornments, poster bed and what appears to be an axe hanging above it :S




The Sylvia Beach Hotel sits on a bluff overlooking the gorgeous NYE beach...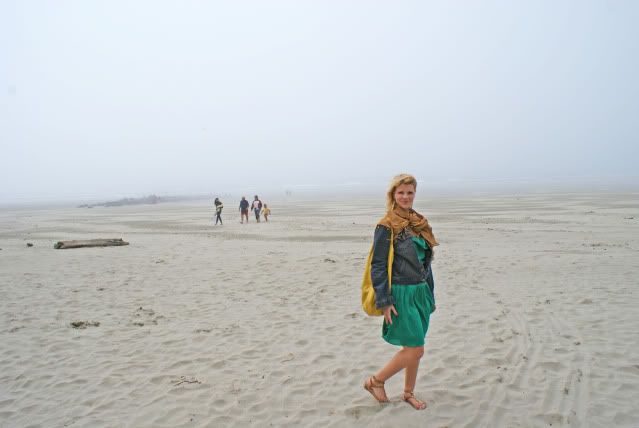 of which you can see more pictures of HERE, on my other blog :)